As we all know, Japan is literally the heaven for skincare products. Walk into any of their drugstores like Daikoku or Don Quijote and you would be faced with a wide array of products that will surely take care of all aspects of your skin.
Here, we have consolidated a list of five drugstore skincare products you must get if you or any of your sisters are visiting Japan. Rest assured, they are all wallet friendly and will pamper your skin like never before. Read on to find out more!
#1 Kanebo Suisai beauty clear powder
The Kanebo Suisai beauty clear powder is an enzyme powder cleanser packaged in individual tiny hexagon shaped pods. Each container comes with 32 such pods. The usage of this beauty powder cleanser is actually really simple: just add water to it and lather the liquid into foam with your hands, and apply it onto your face. This is supposedly a really good exfoliator for your skin too!
Don't you think that the packaging is really convenient for travel? If you're gonna be staying over at your boyfriend's place, you could easily pop a few in your bag to to ensure your skin is properly taken care of.
Keen in this product? Get it from Daikoku at the lowest price of 1700 yen, which is approximately SGD 21.76.
#2 Lululun face mask
We believe everyone knows how important masking is in achieving that perfect flawless skin. Lululun is the number one best selling mask in Japan, and it's for a good reason! The face masks definitely do manage to deliver what they promise. Having tried all three types of the popular mask, our personal favorite is definitely the one in blue that's perfect for intense moisture. If you have dry skin, leaving the mask on for a mere 10 minutes would leave your skin feeling more moisturized and bouncy than. The pink and white masks are for moisture balance and brightening respectively.
Keen in this product? Get it from Don Quijote at 1600 yen for 32 pieces, which is approximately SGD 20.48.
#3 Kao Megrythm steam eye mask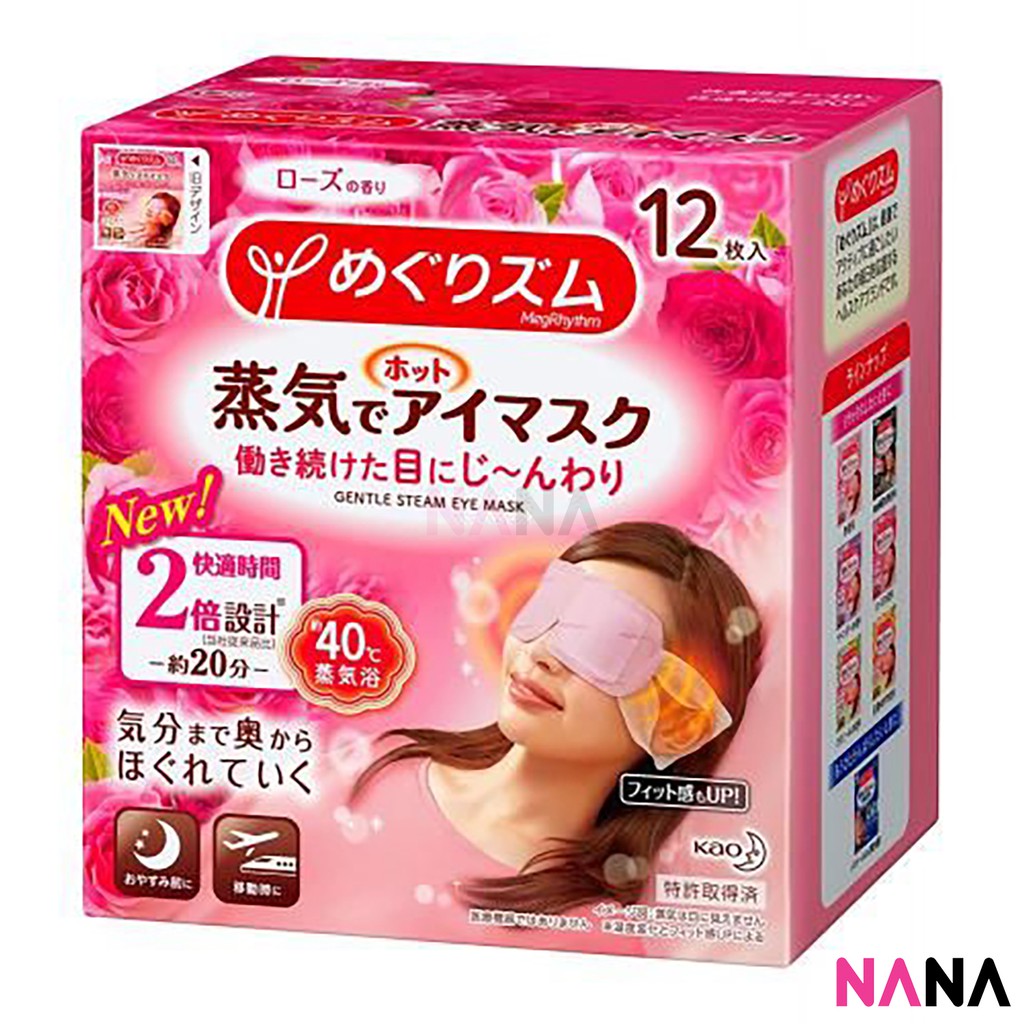 Are those dark eye circles and eye bags weighing a ton on you? If you are sick of how they can never seem to be covered no matter how many layers of concealer you apply, this is the holy grail product you need.
When in contact with skin, the masks warms up for 10 to 15 minutes, releasing hot steam that can soothe your eyes and help you relax. We would definitely recommend using this mask before sleep!
So, what does this eye mask do? It relaxes your eyes and increases blood circulation around your eye area, which is super effected in reducing dark circles and puffy eyes.
Keen in this product? Get it from Sapporo Drug Store at 1200 yen for 12 sheets, which is approximately SGD 15.36.
#4 Evita beauty whip soap
The Evita beauty whip soap is a much raved about product all around Asia thanks to its special dispensing method. Press down on the pumps at the side of the dispenser and your product comes out nicely in the form of a perfect rose. Isn't it super pretty?
Keen in this product? Get it from Don Quijote at 1500 yen, which is approximately SGD 19.20.
#5 Cow milk beauty soap
The cheapest out of the products we have listed, this cow milk beauty soap can be easily found under S$2. Don't belittle the product just because it's cheap! This soap is actually really good for your skin, and would leave your skin feeling extremely soft and smooth after usage.
Sadly, the beauty soap only comes in bars, which as we all know, is not the most convenient for a shower product. However, this is definitely still a must buy as it could easily defeat all other expensive body soap you have been using all your life.
Keen in this product? Get it from Don Quijote at 110 yen, which is approximately SGD 1.41.
Know a friendly visiting Japan soon? Share this post with them so they can loot on these products! x
📸 Featured Image: Cinddie, Pinterest