Most (if not all) ladies dream of having clear, glowy skin. But what does it take for one to achieve that flawless look? In the past decade, many Korean celebrities and influencers have been admired for their perfect-looking glowy skin all thanks to a 10 steps skincare routine that they commit to religiously. It may be a lot of commitment daily, but trust us, it's worth it.
If you want your skin to glow and shine healthily, read on and embark on this journey with us!
Step 1: Double cleanse
Although many of us are afraid of washing our face too much with the fear of our skin being drained of its moisture, the Koreans actually believe in double cleaning; once with an oil cleanser and once with a foaming cleanser. This is due to the fact that each cleanser targets different types of impurities, and double cleansing would leave you with squeaky clean skin.
P/s: Even if you have oily skin, don't be afraid to use an oil cleanser as it targets the oil based impurities trapped in your pores!
Recommended product: Innisfree Green Tea Cleansing Oil ($19.50)
Recommended product: Heimish All clean Green Foam Cleanser ($17.02)
Step 2: Toner
A lot of you might be guilty of skipping the toner in your skincare routine because you're unsure of what it does and unaware of how important it actually is. The toner is commonly known to help cleanse our skin thoroughly of all the gunk you can't see with your naked eye. You might be wondering if there's a need for that after double cleansing your face. According to the Koreans, the answer is 'yes'. In fact, it is a skincare tool used as a 'skin softener' that regulates your skin's pH level and prep your skin for the steps ahead.
Recommended product: Bio essence, Bio-renew nourishing toner ($18.90)
Step 3: Essence
Essence serves as a second layer of moisture for the skin used after toner. Essence is usually light on the skin i, making it easier to penetrate the skin and absorb products more effectively.
Recommended product: Neutrogena Hydro Boost Treatment Lotion Essence ($26.90)
Step 4: Emulsion
Yes! Another layer of moisture! To achieve glass-like skin, you need a lot of moisture. However, if you have oily skin, this step can be skipped as your face should have enough moisture after emulsion. If you have dry skin, this step must not be skipped! Not sure if it will suit you? Try it out for a few times before making it a part of your skin care routine!
Recommended product: Etude House Moistfull Collagen Emulsion ($17)
Step 5: Serum/Ampoule
This step is not a must for all and could be skipped if you feel that your skin is cleansed, hydrated and moisturised sufficiently. Serums and ampoules are typically thicker and packed with moisture, meant to leave your skin with a waxy finish. Certain serums that contain Vitamin C are meant to brighten your skin.
Recommended product: Glow Recipe Pineapple C Brightening Serum ($49)
Step 6: Sheet mask
Masking is one of the most important steps to achieving good skin. Sheet masks are packed with all the good stuff your skin would thank you for! Typically, it is recommended to mask once every 3 days. But it is fine if you wish to mask more than that frequency too! However, remember to never leave your sheet mask on for more than 20 minutes as it might backfire and cause your skin to dry up instead!
Recommended product: LuluLun Face Mask ($24.50)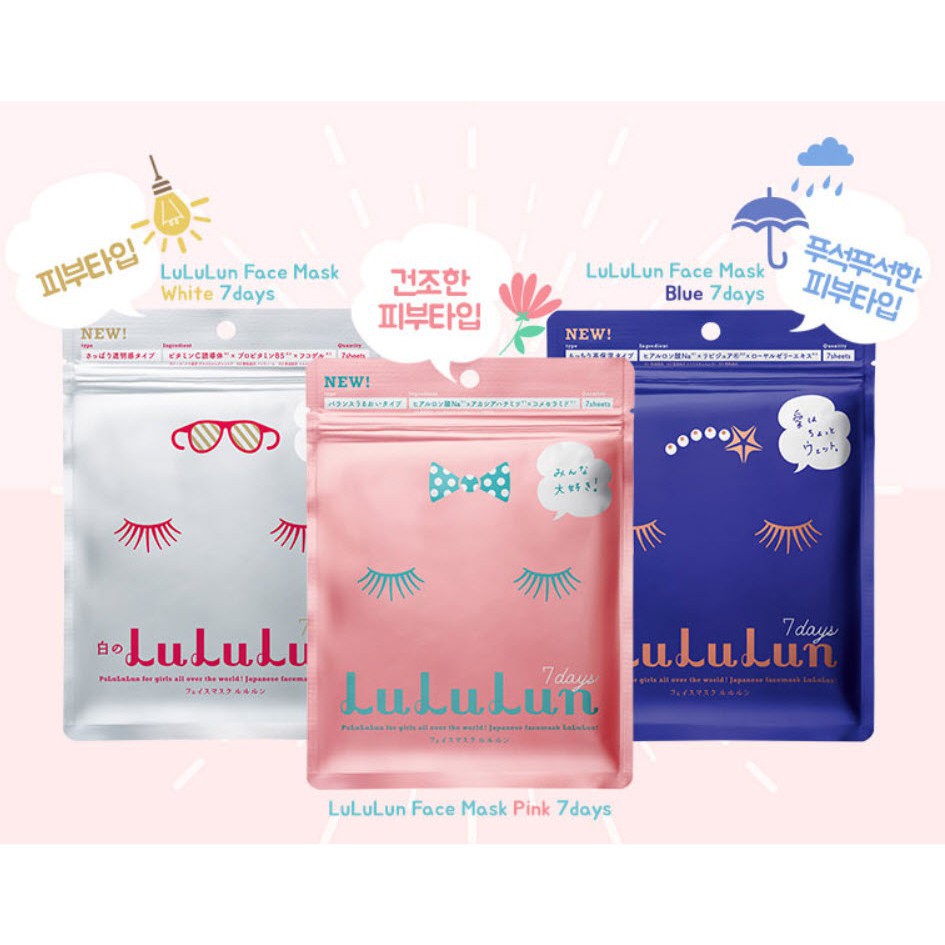 Step 7: Eye cream
Those eyes of yours deserve some pampering after a long day of work or school. If you don't want dark eye circles or heavy eye bags, please take care of your eyes! Eye creams can moisturise the area underneath your eyes which are more prone to developing fine lines. However, please be gentle during application as the eye area is very delicate.
Recommended product: The Body Shop Vitamin E Eye Cream ($15)
Step 8: Moisturiser
Moisturising is meant to seal all the previous products in. To maximise this, opt for a moisturiser with a heavy density that can help you seal the skin barrier and lock in all the goodness you have applied.
Recommended product: Neutrogena Hydro Boost Gel Cream (S$17.20)
Step 9: Sunscreen
Though this may be step #9, do not belittle it! Sunscreens are one of the most important products we need to use everyday to protect us from the harmful UV rays. If you don't want discolouration on your skin and nasty spots on your face, slap on the sunscreen!
Recommended product: Biore UV Aqya Rich Watery Gel ($18.90)
Step 10: Sleeping mask (Night)
The body does the most repairing when we are asleep, so can you imagine the wonders a sleeping mask could do? If you want to wake up to plump and supple, baby-like skin in the morning, don't skip this magical step!
Recommended product: Laneige Water Sleeping Mask (S$42)
Know a friend who needs to try out this skincare routine? Spread the love and share this guide with them! in need of this skincare routine guide? Share this post with them!
📸 Featured image: Stylenanda, Pinterest
While you're here, check out these posts that might be of help to you!